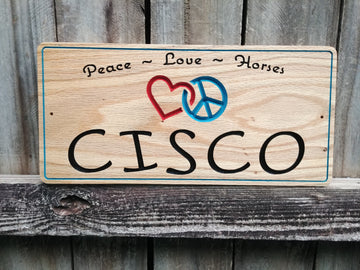 This custom carved Oak Horse Stall name plaque was one of my very first challenges in the 3D CNC router world. We were provided with a picture of a sign previously made for this customer, by another shop, and asked to duplicate it. Many lessons were learned from this project, as simple as it seemed. 
Red Oak cuts and carves totally different from Select Pine wood. With Oak being a much harder wood, feeds and speeds can specifically come in to play. Much experimentation and practice can be very beneficial to produce finished products right off the table. The object is to spend as little time handling these projects as possible...the more you handle them - the better the chance of damaging them.
Painting with one color or many colors can be as easy as applying masking tape here and there during the cutting process. Careful planning and knowing what you can and can't get away with is key. Also, some paints dry much faster than others and knowing which is which can help tremendously.
If you have a knack for custom woodworking-you already have a set of skills that work for you, but, we all can use a little continuing education. Again,there is nothing better than a little trial and error, trial and success. I have found that tinkering and trying new paths to the reach the goal is what it really is all about anyway. If it was that easy everyone would be doing it. Roll up your sleeves and accept the challenge!