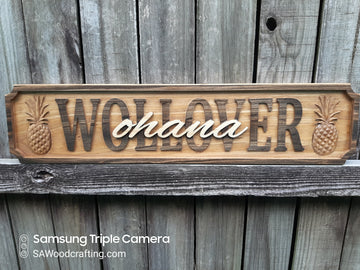 The Ohana custom made and personalized Last Name sign makes an awesome Wedding gift for that newlywed couple married in Hawaii. This beautiful wooden name plaque is sure to stand out front from other Wedding gifts.
This wood sign is 3D carved from solid Select Pine hardwood and features custom carved Pineapples on each side of the married couple's Last name. The word Ohana or Family is carved on a different layer on top of the Last name. This beauty is stained in different shades to make the detailed features really 'Pop' in contrast.
This is by far our most popular personalized wood Wedding gift sign and every Tropical themed wedding should have one. Each custom wood sign is unique and will last as a family heirloom forever. Oh the beauty of stained hardwoods!