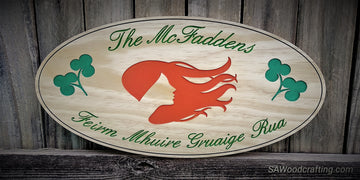 Well, we got a special request for something with an "Irish feel", and a few other details...but just a few. At first I figured I might just throw a few beers and a Corned Beef sandwich in a bag and be done with it, but my senses came back to me and the juices started to flow. Thoughts of Corned Beef and Cabbage danced in my head and I went to work.
It always helps when folks include some type of digital art files if they have something very very specific that they need carved. Even a simple jpeg is better than nothing, and Lucky for us, this customer included one for the Lady with the Red Hair, the rest was up to us. Throw in a few Shamrocks, some fancy script text and a couple custom paint colors, and what was once a normal piece of Select Pine lumber is now a beautiful piece of art ready to adorn the walls of one happy client.
As it turns out, our customers are responsible for so many of our Custom Personalized sign creations. Once they plant the seed, we work with them with a full line of communication. It really only takes a little bit of time and a little bit of effort to bring a person's vision to life. That's what we do at Southern Accent Woodcrafting...."We Bring Wood To Life."